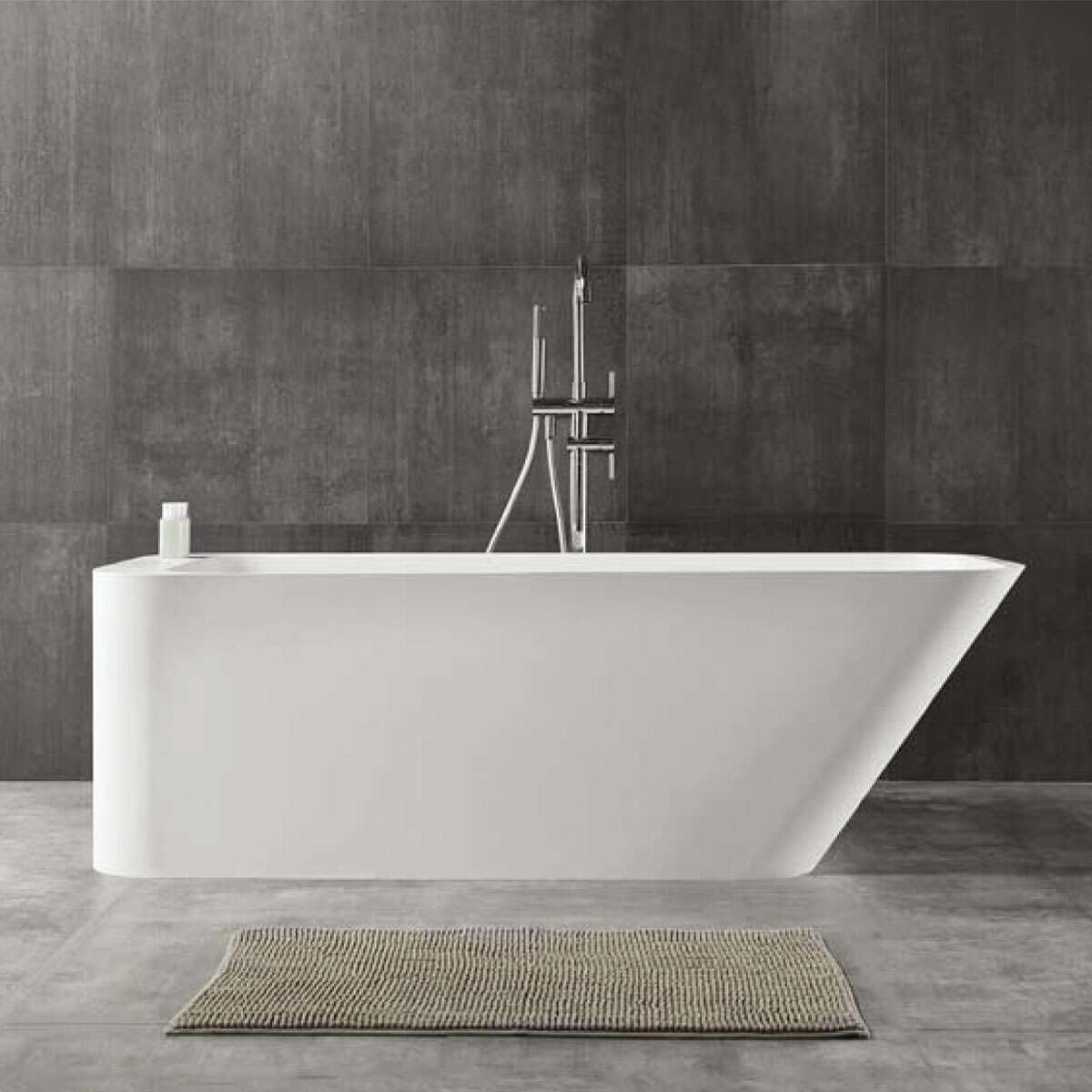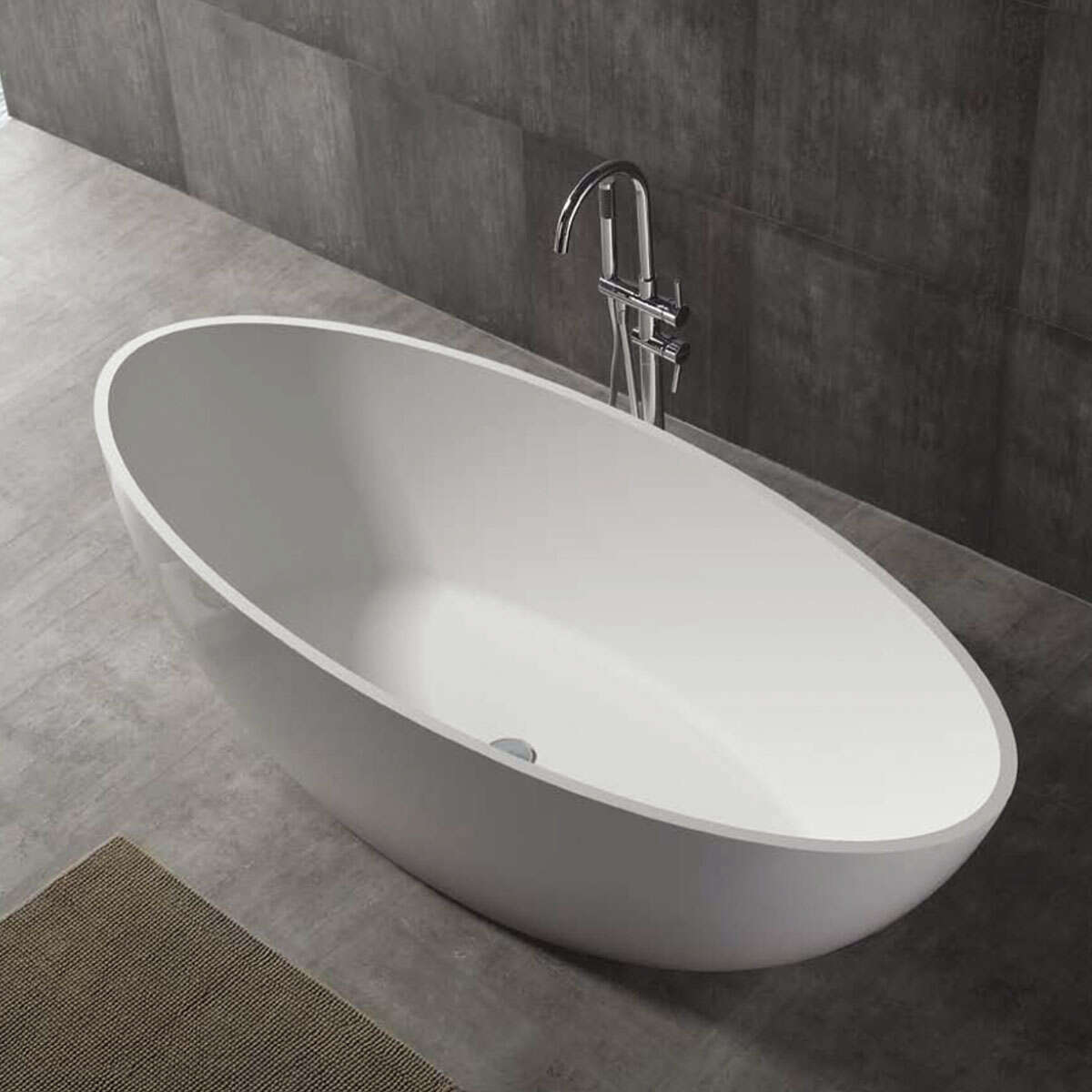 Man-Made Stone Modern Style Bathtub has a modern aesthetic with a contemporary interior design and it is is the perfect combination of modern and classic. This bath tub with oval shape features a man-made stone material and is built for durability, strength and long lasting use. It includes features such as an easy to clean no tile grout material and a streamlined drain making this the perfect product for any home.
The perfect tub for an individual who loves to relax in the comfort of modern luxury. Man-Made Stone features exquisite styling, its size is 1800*850*520mm to maximize your enjoyment. If you like this bath tub with classical light white, try it out now!
Features of man-made stone bathtub
Beautiful appearance, good heat preservation, no cracking and no deformation.
The artificial stone bathtub has a very delicate surface touch, and the matte texture is more recommended, which looks and feels advanced.
Knowing the artificial stone bathtub
The main components of artificial stone
High-quality resin + aluminum powder + color paste + coagulant, the artificial stone bathtub is die-casting under high temperature and high pressure. Its advantages are high surface flatness, good smoothness and low water absorption.
The artificial stone bathtub is the most high-end bathtub on the market, and is often applied for homestays, high-end hotels, households, etc.
The surface of the bathtub is divided into two types, bright and matte, with high surface density, no pores, and low water absorption.
Installation method
Most of our man-made stone bathtubs are installed independently. The advantage of independent installation is that you can see the shape of the entire bathtub, which is modern and three-dimensional. Directly and independently placed on the ground, it is easy to move, easy to construct and easy to overhaul. It is very popular with young people who like light luxury style decoration.
Durability
If the surface of an artificial stone bathtub is dirty, it can be washed directly or re-polished with abrasive paper. Anti-yellowing is one of the major advantages of artificial stone bathtubs. If poor resin is used, it will be easy to yellow, but it will be ugly in a short time.
Bathtub surface
The surface is divided into two types, bright and matte, with high surface density, no pores, and low water absorption.
Which is better, artificial stone bathtub or acrylic bathtub?
Artificial stone bathtub and acrylic bathtub are two of the more common bathtubs at present. They have their own advantages. It is recommended that you choose according to your personal preferences and budget.
The bright surface of the artificial stone bathtub has a hard agent protective layer, which is easy to clean and take care of, just wipe it with a rag and water, no need to wax, any scratches can be as bright as new just by wiping with sandpaper and water; antibacterial and antifouling , Beautiful appearance, delicate surface texture, good thermal insulation, no cracking, no deformation, long service life, it is estimated that it can be used for decades.
Acrylic bathtubs are made of synthetic resin material acrylic, which is very light in texture and relatively affordable. The main advantages of acrylic bathtubs are good thermal insulation and high cost performance. Because acrylic materials are soft and easy to process, this type of bathtub is rich in shape and color. The owner has a wide range of choices, strong adaptability, and scratches on the surface can be repaired.
In short, both them have their own characteristics, and you can choose them according to your budget and preferences.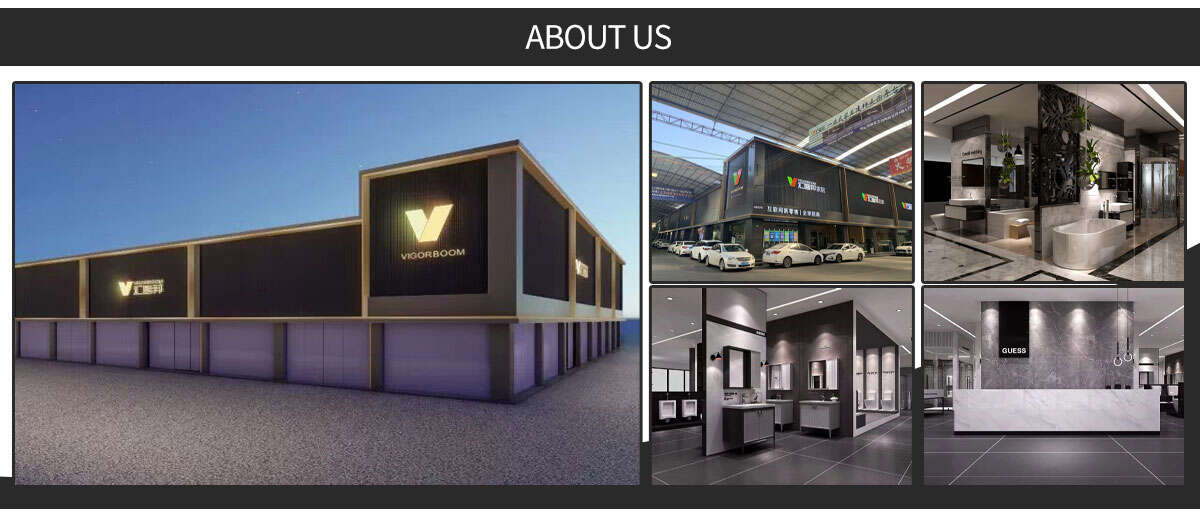 VIGORBOOM (China) Bathroom Co., Ltd. was established in Foshan, China. The company has two overall sanitary ware brands: GUESS sanitarywares and VIGORBOOM sanitarywares. VIGORBOOM bathroom products select high-end materials, strictly control product quality, and strive to build a high-end overall bathroom brand in China. VIGORBOOM bathroom products mainly include smart toilets, smart electric towel racks, bathroom cabinets, jacuzzi, steam rooms, shower rooms, showers, faucets, bathroom accessories etc.
GUESS Sanitary Ware mainly focuses on domestic and foreign hotel sanitary ware projects, we provide customers with custom service. GUESS sanitary ware brand was established in 2006, and the existing distributors are all over the world, especially including Saudi Arabia, Russia, Morocco, Oman, Maldives, Armenia, Iraq, India, Tajikistan, etc. GUESS Sanitary Ware has served thousands of domestic and foreign bathroom projects, including the five-star HAYAS hotel in Saudi Arabia, the five-star CENTRAL HAWASSA hotel in Ethiopia, the four-star PIPAL TREE hotel in India, APANA Real Estate in India, Agile Real Estate in China, and two in Dubai. MAQTA school, etc., products and quality are well received by customers.
VIGORBOOM sanitary ware brand was established in 2018, and is now recruiting brand agents from all over the world. VIGORBOOM Sanitary Ware is committed to creating a personalized overall bathroom space, aiming to create its own unique product for every end customer who chooses VIGORBOOM Sanitary Ware products. Bathroom space, so that every customer who chooses GUESS and VIGORBOOM brands can enjoy high quality of life and embrace a better life!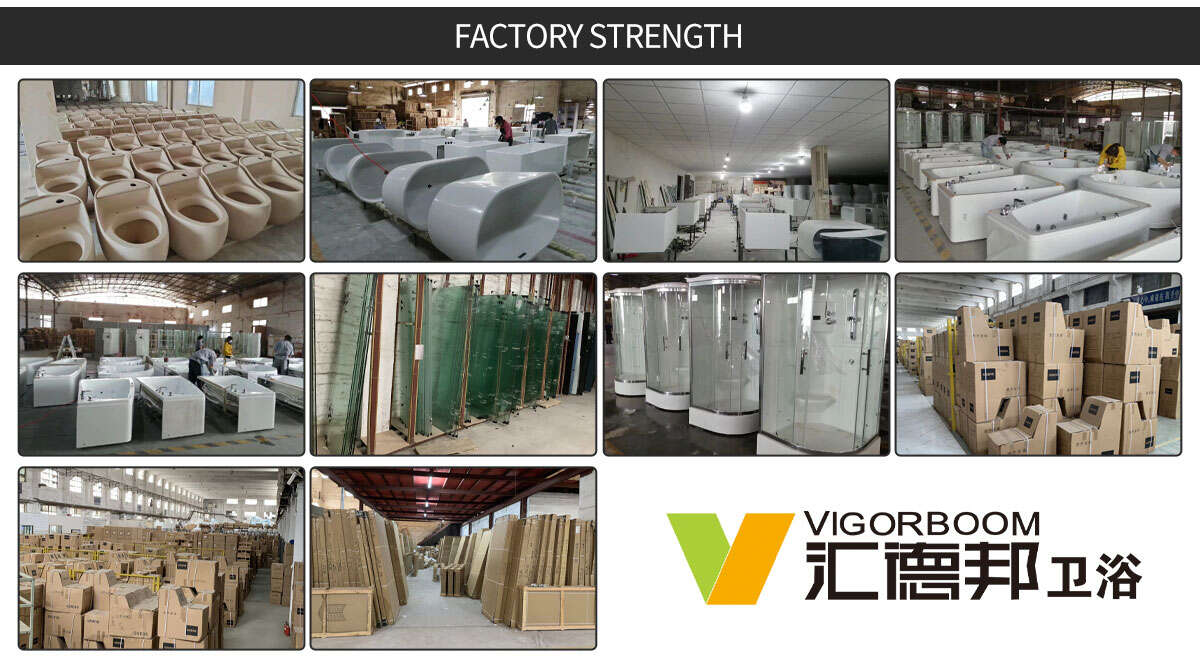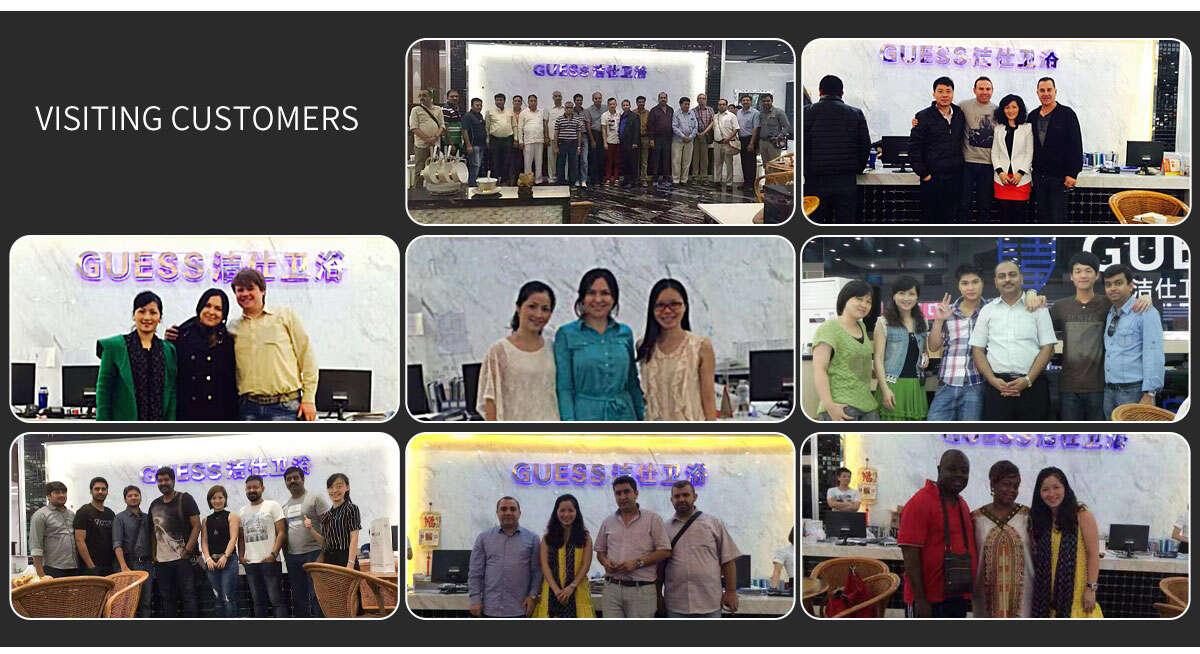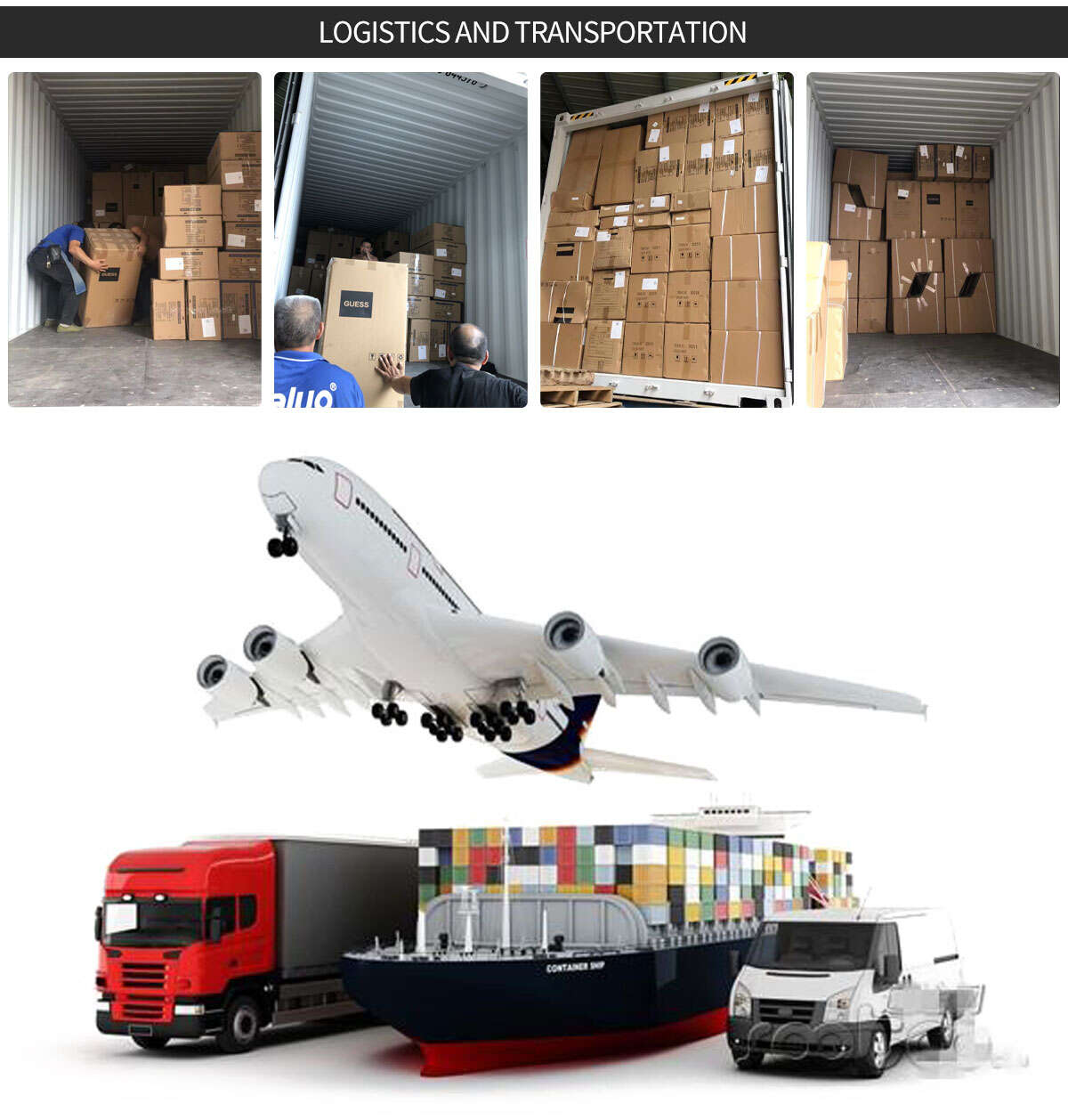 Package
All products are strong packaged by foam, carton, and wood support or wood case if necessary if the products are ceramic.
FAQ
Q1: How about the packing of exported goods ?
A1: Packages : 5-ply corruagated carton+foam+bubble bag.
Q2: How long for the production days ?
A2: Base on your quantity ,normally it need 15-25 days.
Q3: What is the MOQ quantity for each design?
A3: The minimum order quantity hopefully is more than 5 sets for one design or custom design. Our Production Capacity >90,000 sets/month.
Q4: Can the products be customized ?
A4: According to different styles, the material can be customized.
Q5: Whats the matrials of the cabinetg made of ?
A5: Main cabiner by Eco-friendly plywood,some design by ceramic hand wash basin ,and some with rock tile top.
Q6: What countries do you mainly export to ?
A6: Our products 60% exported, such as: India, Dubai, Saudi Arabia, Bahrain, Oman, Qatar, Kuwait, Libya, Yemen, Lebanon, Russia, More than 50 countries and regions including Azerbaijan, Ukraine, New Zealand, Venezuela, Tanzania, Nigeria, Kenya, Uganda, Australia, Malaysia and Nepal.