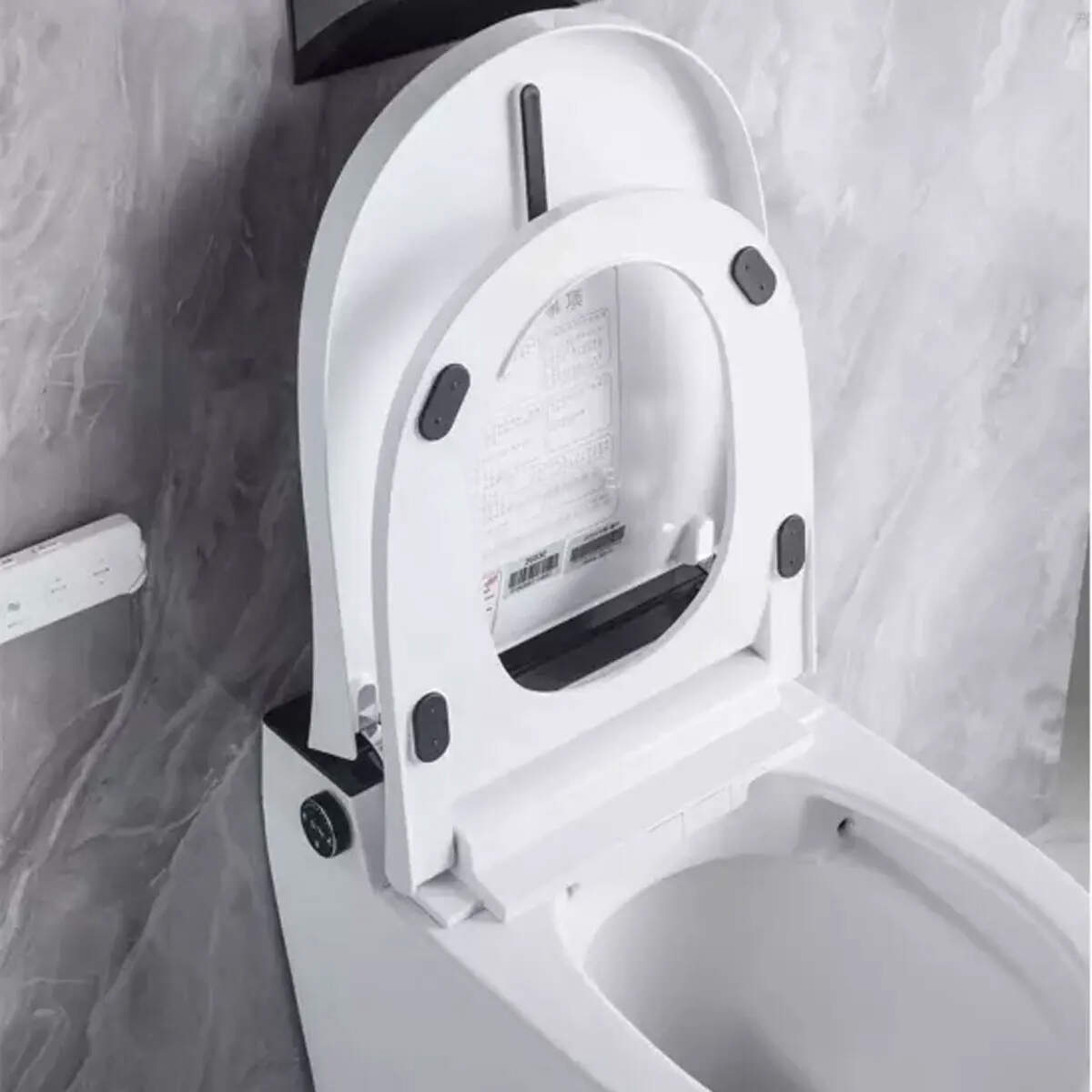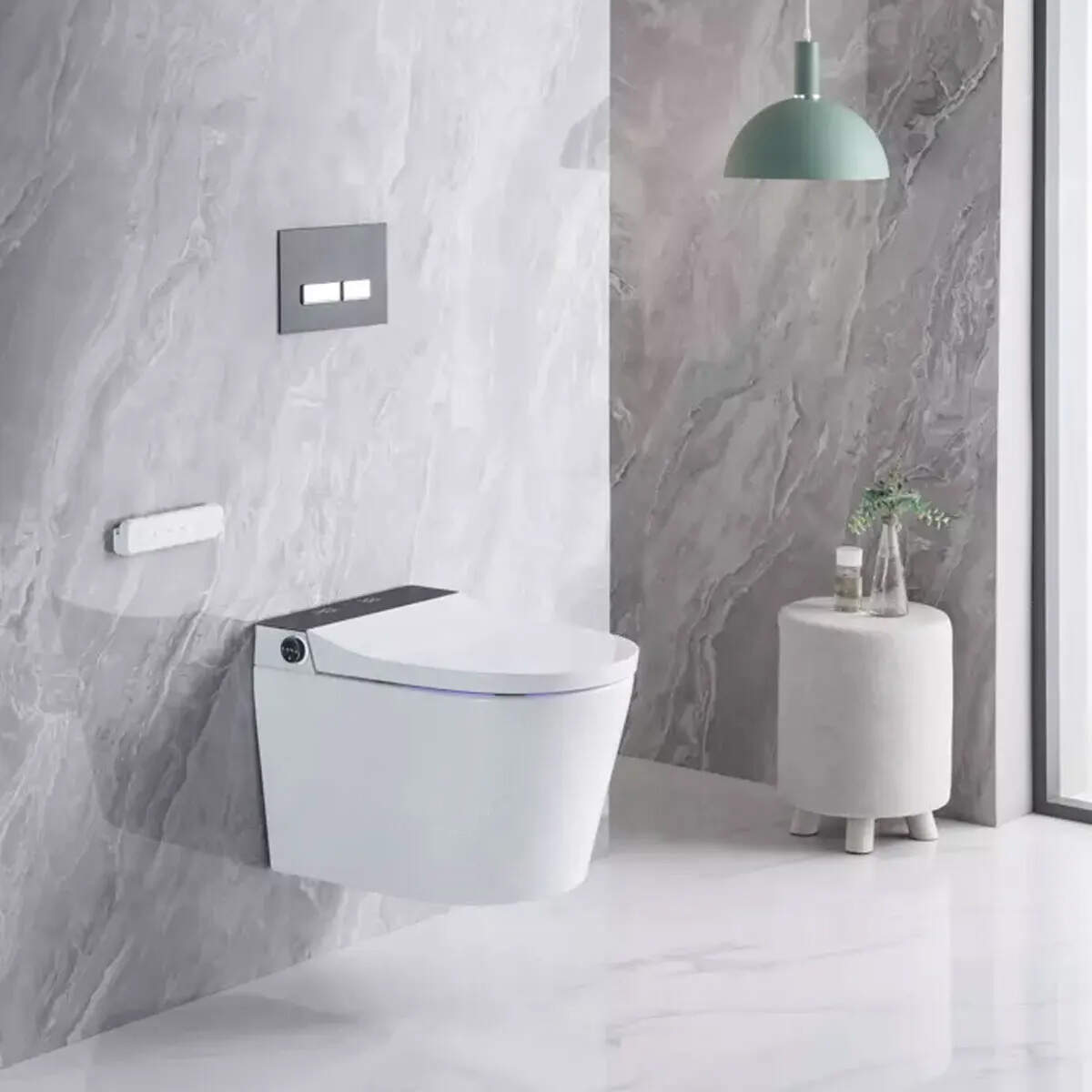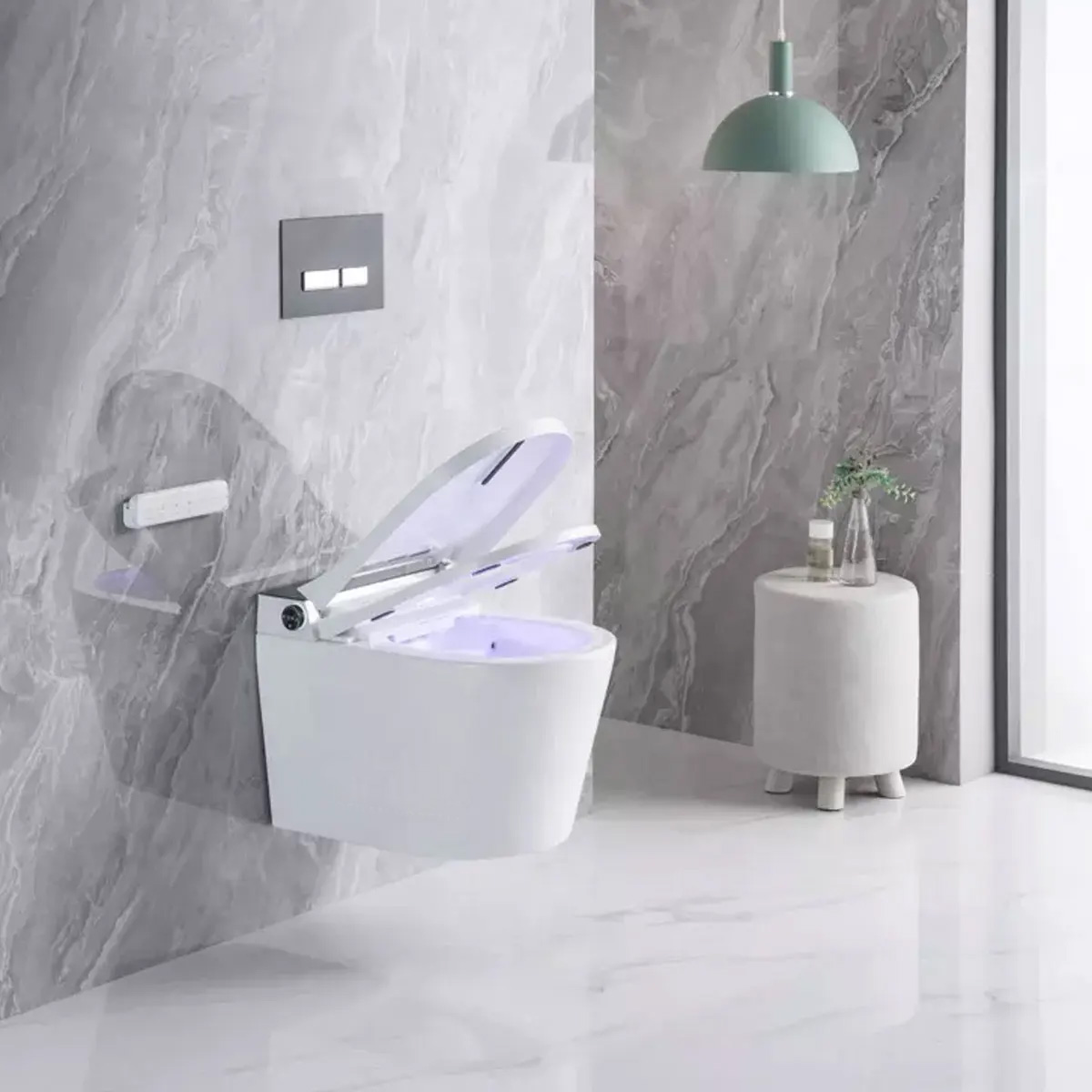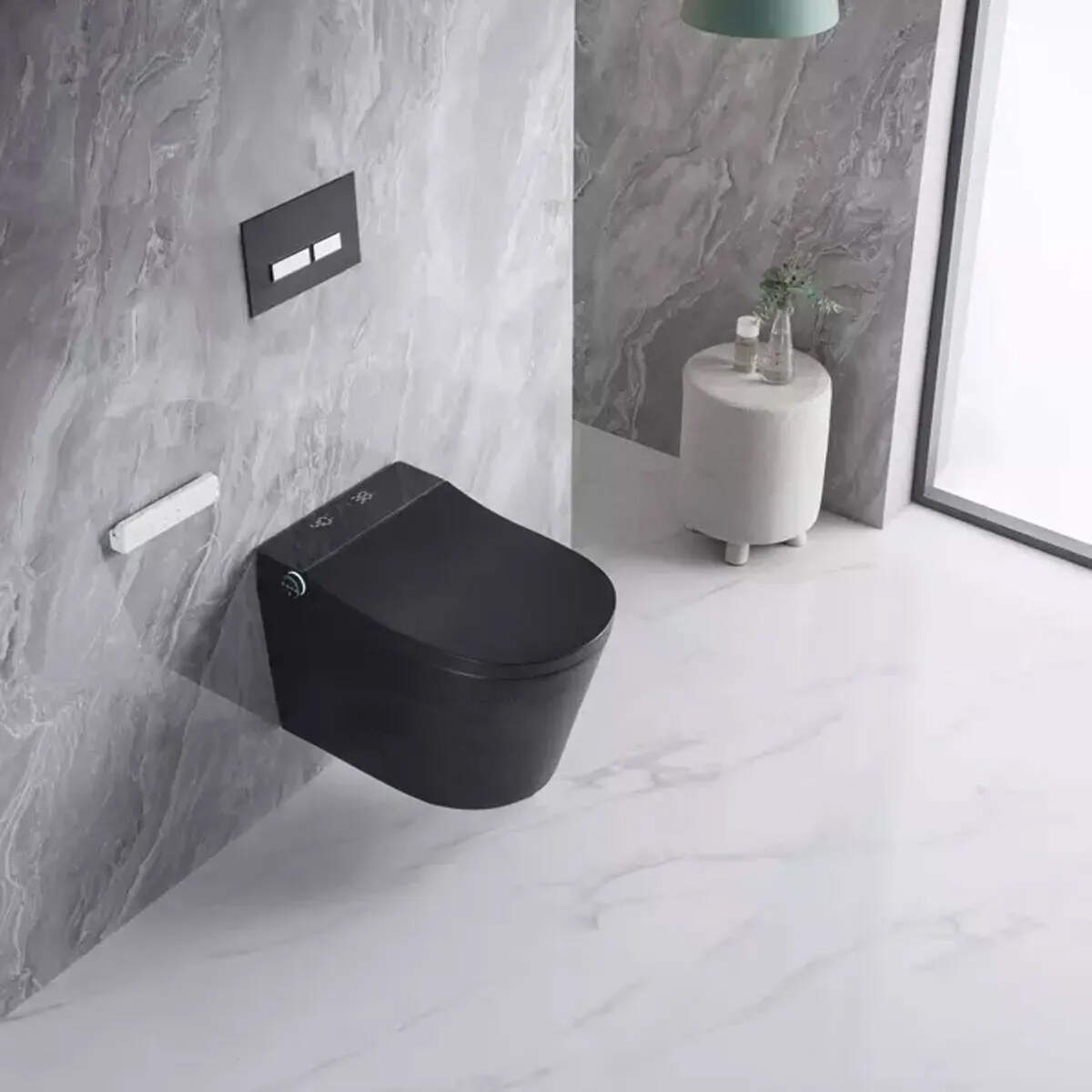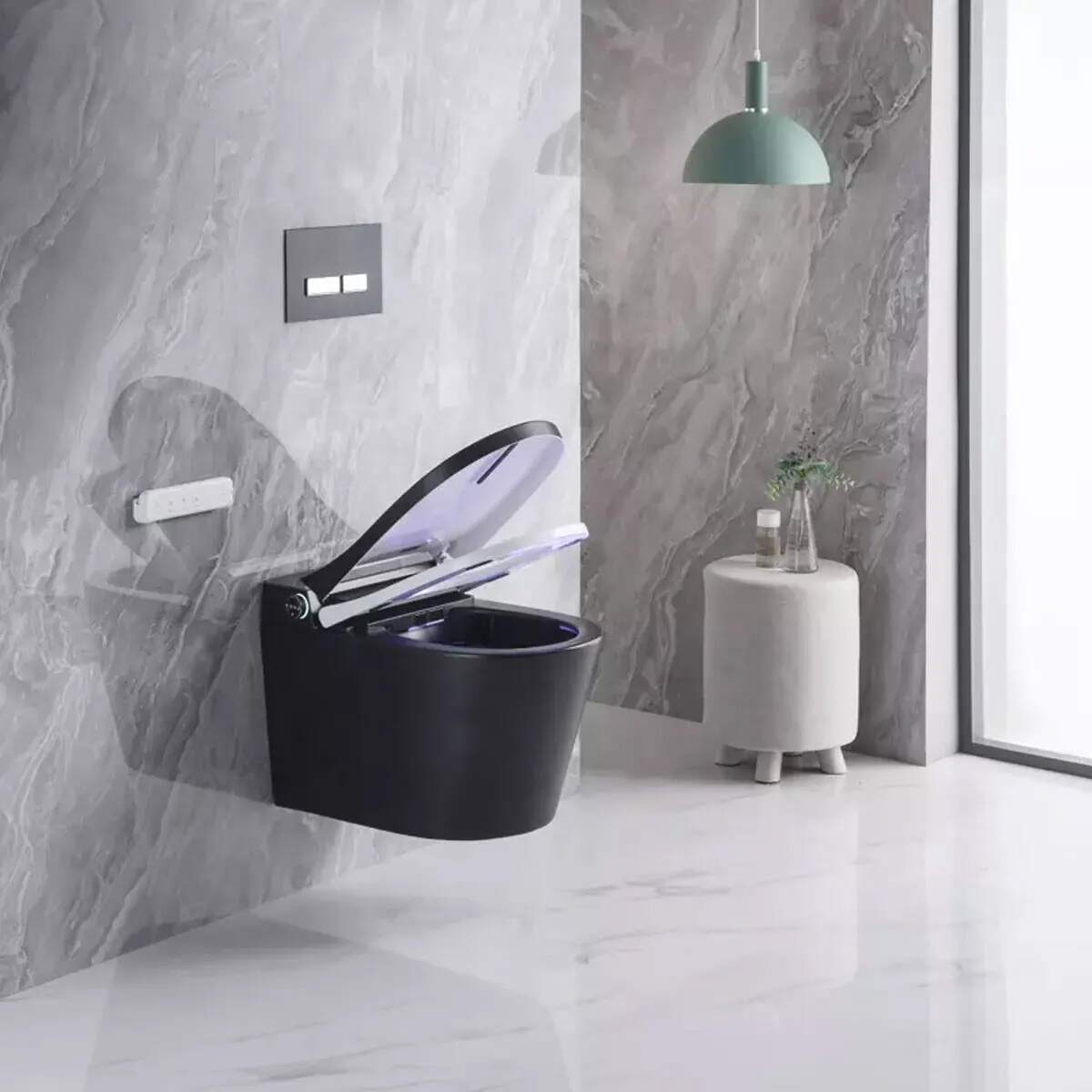 This wall-hung toilet is easy to install and will save you space. It mounts directly to the wall and is easy to clean. The minimal design is guaranteed to add a sleek finish to any space.
Advantages of wall-hung toilet
1. Beautiful and concise, and easy to clean
Because of the large contact with the ground and the complex shape of the traditional floor toilet, it is easy to produce sanitary dead corners, and a large amount of glass glue will be used, which is easy to yellowing and sticking ash. The wall hung toilet, as its name implies, is to hang the toilet in the air. It is very convenient to clean the ground. Moreover, the toilet has a simple and beautiful shape, and the water tank is hidden, so it is convenient to clean.
2. Low flushing noise
Hidden water tanks and pipes are shielded by false walls, with silencers and sound insulation pads inside and EPS foam sound insulation panels outside. The noise of the water inlet and drainage is isolated to the greatest extent. Especially friends who have the habit of getting up at night, don't worry about affecting their family's sleep because of going to the bathroom anymore.
3. Strong flushing force, not easy to block.
Because the hidden water tank is basically a little higher than the traditional toilet, the relative impulse will also be greater. And most of the hidden water tanks are flushed, so the probability of blockage of the sewage pipe is smaller.
4. It can be shifted on the same floor, and the spatial layout is flexible
This advantage is easily ignored by many friends. However, our experience in designing so many wall hung toilets believes that this is the biggest advantage of wall hung toilets. Now many home decoration is limited to the original developers or there is no caisson, which leads to the limited layout of toilets. The wall hung toilet can be used as a drainage system on the same floor, which can be changed according to everyone's needs and preferences in the spatial layout to create a personalized living space.
Tips for choosing toilet
1.First of all, you should like the appearance. Observe whether the glaze on its internal and external surfaces is bright, crystal clear and smooth, whether there are ripple cracks, needle eye impurities, symmetrical appearance, and whether it is stable and does not swing on the ground.
2.Check whether the water parts in the water tank are genuine products, whether they have the water-saving function of 3 or 6 liters, whether the inner side of the water tank and sewer nozzle is glazed, and whether the sound is clear by knocking on any part of the toilet.
3.Touch the surface, feel fine without bumps, the low-grade glaze is rough and dim, there are small seven holes under the light, the knocking sound is hoarse, not crisp, it will crack internally, or the product is not cooked.
4.Put your hand into the dirt hole, the interior should be smooth, and the rough feel indicates that there is no glaze, which is easy to leak.
5.The gasket shall be made of rubber or foamed plastic.
6.Good heavy, medium and low-grade light.
7.Flushing three times can flush out at least five water table tennis balls.
8.The color is coordinated with bathtub, basin and ceramic tile, but it should not be deeper than floor tile.
9.The water outlet is divided into lower drainage and rear drainage. The lower drainage outlet is on the ground and the rear drainage is on the rear wall. The standard pit spacing of the two is also different. The lower drainage type is 305mm, 400mm, and the rear water type is 185mm. The measurement error cannot exceed 1cm.
10.The flushing method is divided into flushing type and siphon type, and the siphon type is more water-saving.
11.For the inspection of sewage discharge effect, fill the water tank with water, put a piece of paper and drop a drop of ink, and discharge it at one time without leaving any trace.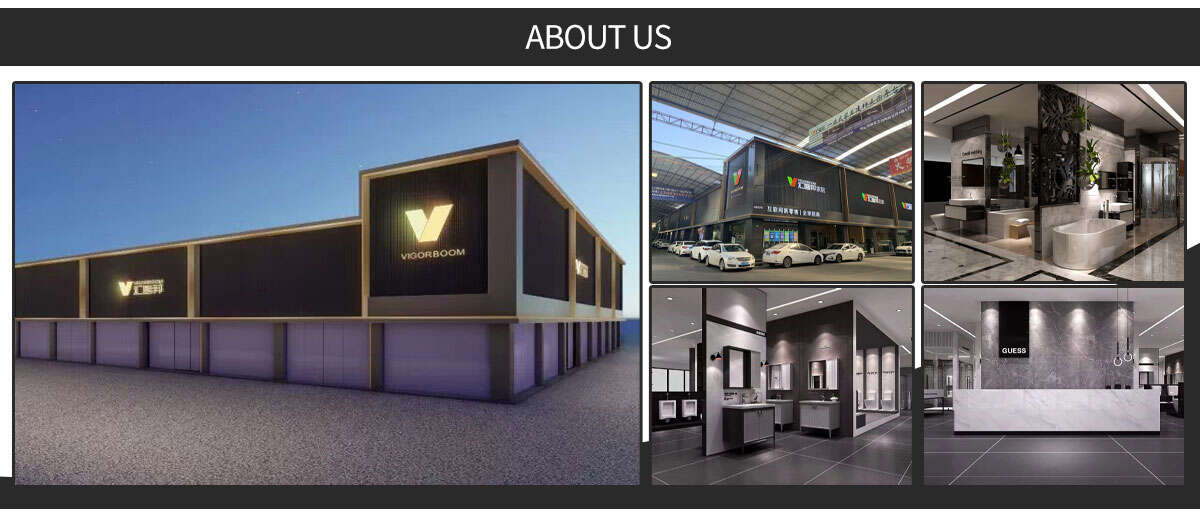 VIGORBOOM (China) Bathroom Co., Ltd. was established in Foshan, China. The company has two overall sanitary ware brands: GUESS sanitarywares and VIGORBOOM sanitarywares. VIGORBOOM bathroom products select high-end materials, strictly control product quality, and strive to build a high-end overall bathroom brand in China. VIGORBOOM bathroom products mainly include smart toilets, smart electric towel racks, bathroom cabinets, jacuzzi, steam rooms, shower rooms, showers, faucets, bathroom accessories etc.
GUESS Sanitary Ware mainly focuses on domestic and foreign hotel sanitary ware projects, we provide customers with custom service. GUESS sanitary ware brand was established in 2006, and the existing distributors are all over the world, especially including Saudi Arabia, Russia, Morocco, Oman, Maldives, Armenia, Iraq, India, Tajikistan, etc. GUESS Sanitary Ware has served thousands of domestic and foreign bathroom projects, including the five-star HAYAS hotel in Saudi Arabia, the five-star CENTRAL HAWASSA hotel in Ethiopia, the four-star PIPAL TREE hotel in India, APANA Real Estate in India, Agile Real Estate in China, and two in Dubai. MAQTA school, etc., products and quality are well received by customers.
VIGORBOOM sanitary ware brand was established in 2018, and is now recruiting brand agents from all over the world. VIGORBOOM Sanitary Ware is committed to creating a personalized overall bathroom space, aiming to create its own unique product for every end customer who chooses VIGORBOOM Sanitary Ware products. Bathroom space, so that every customer who chooses GUESS and VIGORBOOM brands can enjoy high quality of life and embrace a better life!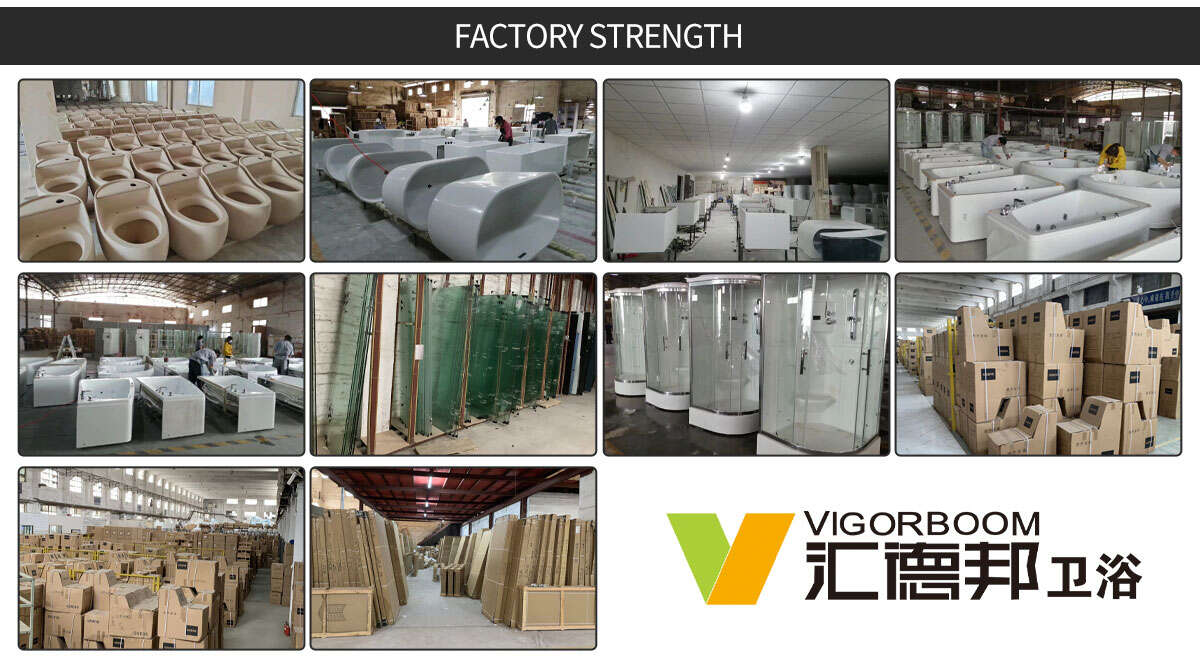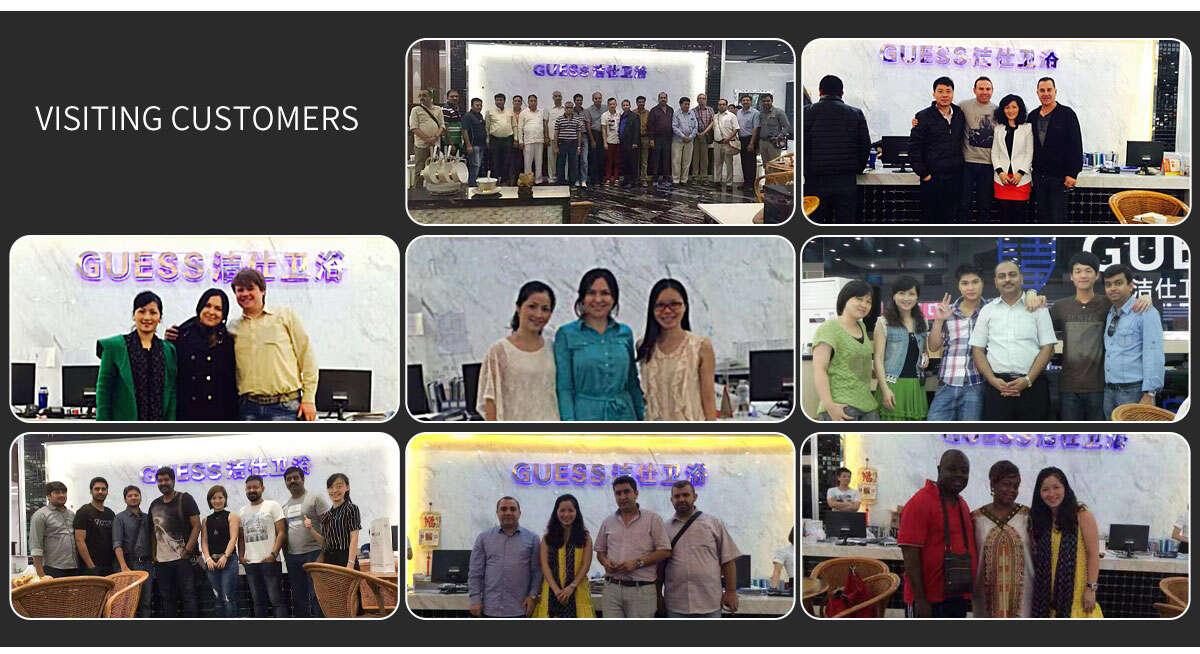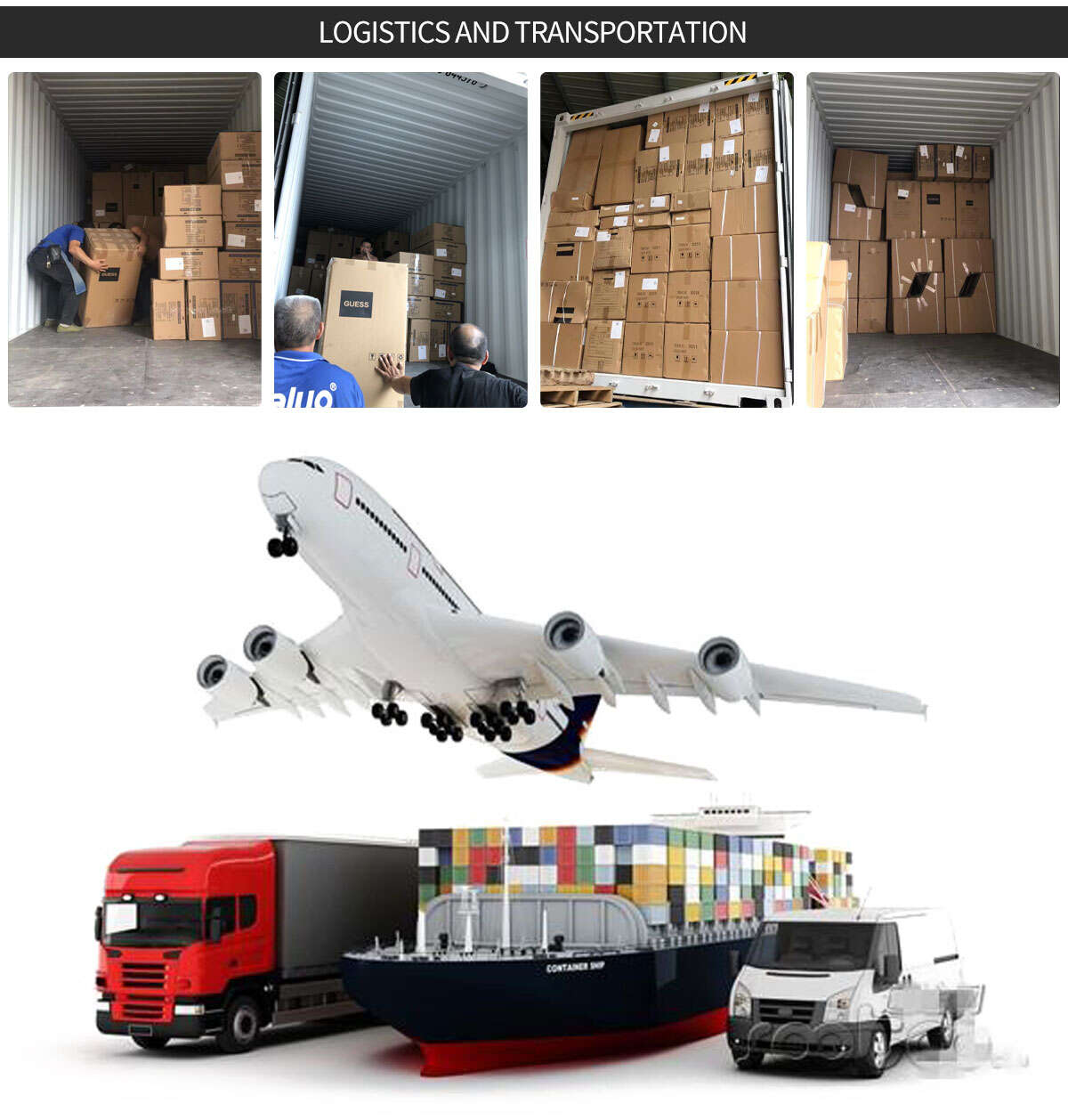 Package
All products are strong packaged by foam, carton, and wood support or wood case if necessary if the products are ceramic.
FAQ
Q1: How about the packing of exported goods ?
A1: Packages : 5-ply corruagated carton foam bubble bag.
Q2: How long for the production days ?
A2: Base on your quantity ,normally it need 15-25 days.
Q3: What is the MOQ quantity for each design?
A3: The minimum order quantity hopefully is more than 5 sets for one design or custom design. Our Production Capacity >90,000 sets/month.
Q4: Can the products be customized ?
A4: According to different styles, the material can be customized.
Q5: Whats the matrials of the cabinetg made of ?
A5: Main cabiner by Eco-friendly plywood,some design by ceramic hand wash basin ,and some with rock tile top.
Q6: What countries do you mainly export to ?
A6: Our products 60% exported, such as: India, Dubai, Saudi Arabia, Bahrain, Oman, Qatar, Kuwait, Libya, Yemen, Lebanon, Russia, More than 50 countries and regions including Azerbaijan, Ukraine, New Zealand, Venezuela, Tanzania, Nigeria, Kenya, Uganda, Australia, Malaysia and Nepal.