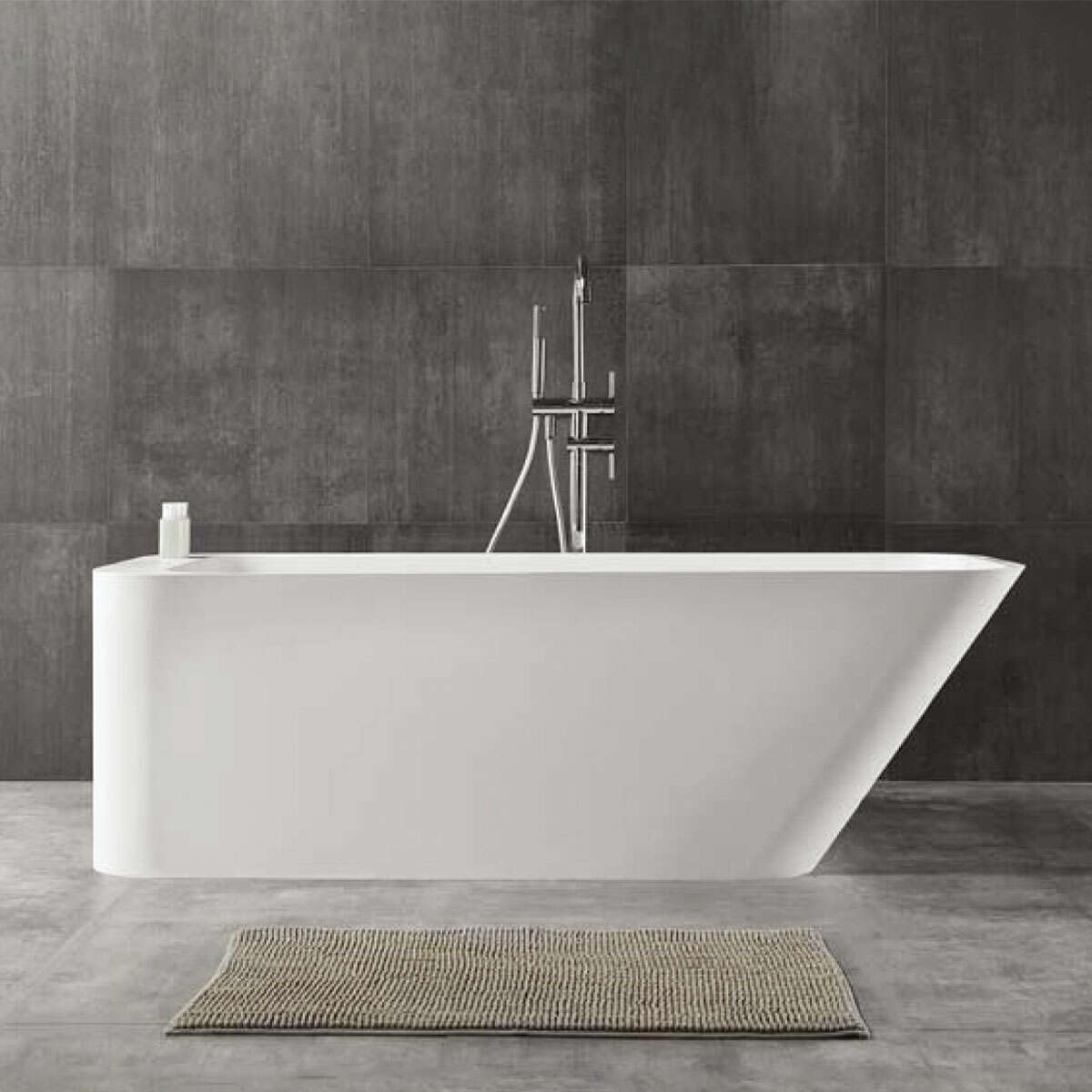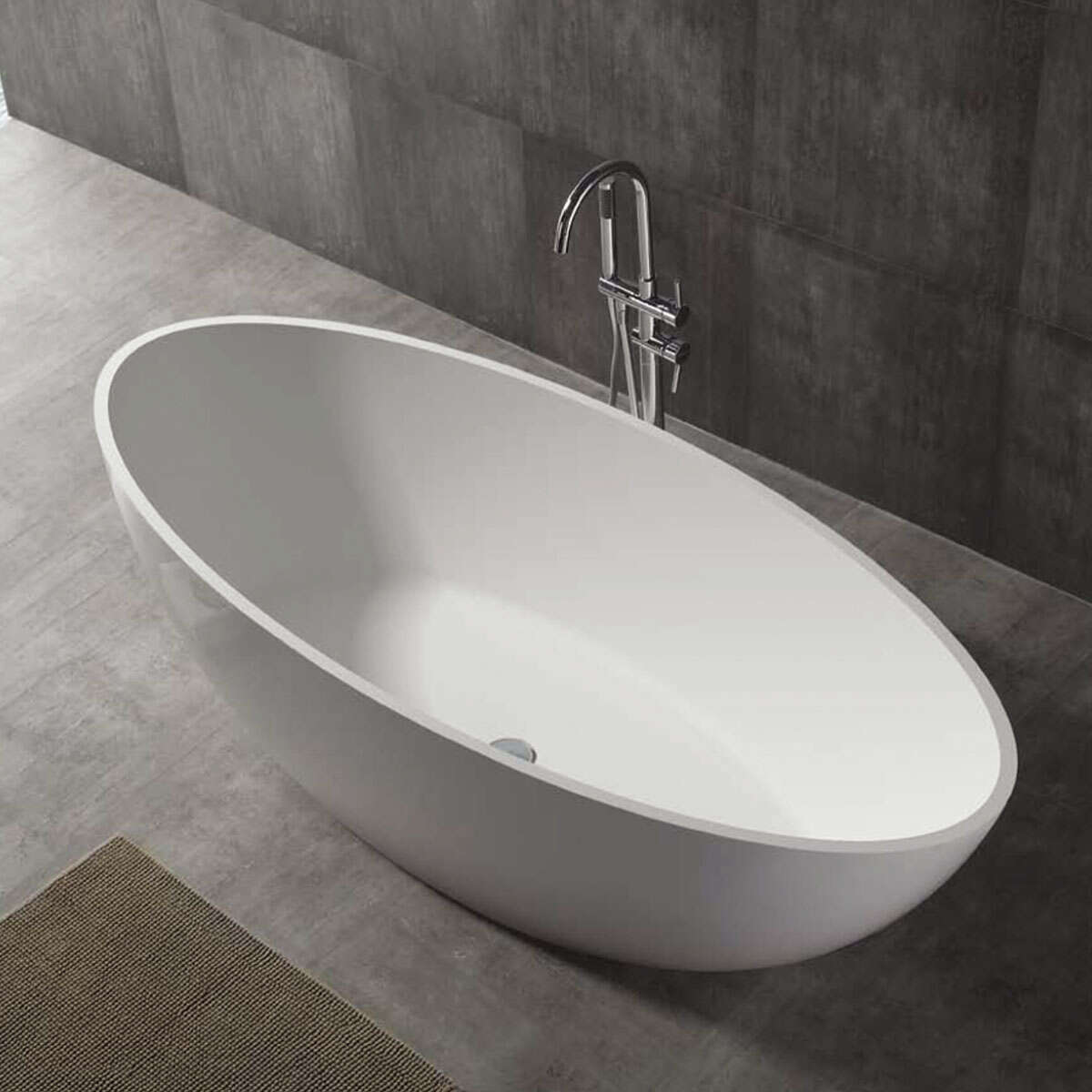 This artificial Stone Bathtub will be your ideal bathroom decoration. Made by advanced technology, it is environmentally friendly and durable enough to use for a long time. When you use them, it will impress you at first sight. The solid color can be well matched with many kinds of bathroom themes. A luxurious bathing experience starts with an elegant bathtub. Life is too precious to not be pampered, and what better way to relax and unwind than with a hot tub?
The artificial stone tub is a practical and durable bathtub material. Its size is 1800*850*520mm. This product is not only used as a final decorative choice, but also serves as an intimate space for you to relax with your family and friends. If you love the look and feel of natural stone but want to simplify the maintenance, our artificial stone tub is the perfect option. The oval shape with light white colors are not only stunning, but also classical.
Tips to install bathtub
The size and layout of the bathroom will also limit the choice of bathtubs. The cruel fact is that the bathtub you like may not be able to fit in your bathroom.
Therefore, according to the actual situation of the bathroom, it is the right way to choose a bathtub according to the material and shape you like.
Freestanding
If the bathroom is spacious enough and big enough, a freestanding bathtub is of course the first choice. Separate bathing and bathing. A good-looking freestanding bathtub will definitely add a lot to the bathroom. The material of the freestanding bathtub is cast iron and artificial stone, the key is to be more durable and better looking.
Cylinder mounted
If you're at a distance from the wall, you can choose an over-the-tub (the faucet is attached to the edge of the tub) or a floor-standing faucet.
Installing it along the corner
The most space-saving way to place a bathtub in a small bathroom is generally to place it against the corner of the wall.
It does not waste space and makes full use of the corner position. The general choice is the acrylic bathtub, because the size selection range of the acrylic bathtub is relatively large, and even ultra-small bathtubs can be found.
For the artificial stone bathtub, we think the artificial stone bathtub is a good choice for freestanding.
Except for this item, we'd like to share you with useful tips to buy bath tub for yourself, and some of them can be gotten from here.
Tips to buy bathtub
From the perspective of durability, artificial stone or cast iron is recommended for the material;
If you pay more attention to the diversity of shape and selection, acrylic material is recommended.
The bathtub should be cleaned in time after taking a bath, so that it can be used frequently and often.
If there are elderly people at home, you can choose a bathtub with a pull rod inside, or install a pull rod on the wall near the bathtub, which is easier to stand up and safer.
The massage bathtub is more of a sense of freshness. It also involves water and electricity. It is more troublesome to maintain, and the nozzle part is not easy to clean. It is not recommended to choose it if there is no obsession.
Remember to put a non-slip mat at the footrest at the front of the bathtub. It is the most dangerous to climb in and out.
Consider the selection of special populations
If you select a bathtub for the elderly, please consider an open-door type. The elderly are afraid of falling. If you accidentally fall while climbing a bathtub, the consequences will be disastrous.
This open-door size bath tub is a good choice for the elderly to wash, and it is both warm and convenient to control the water level.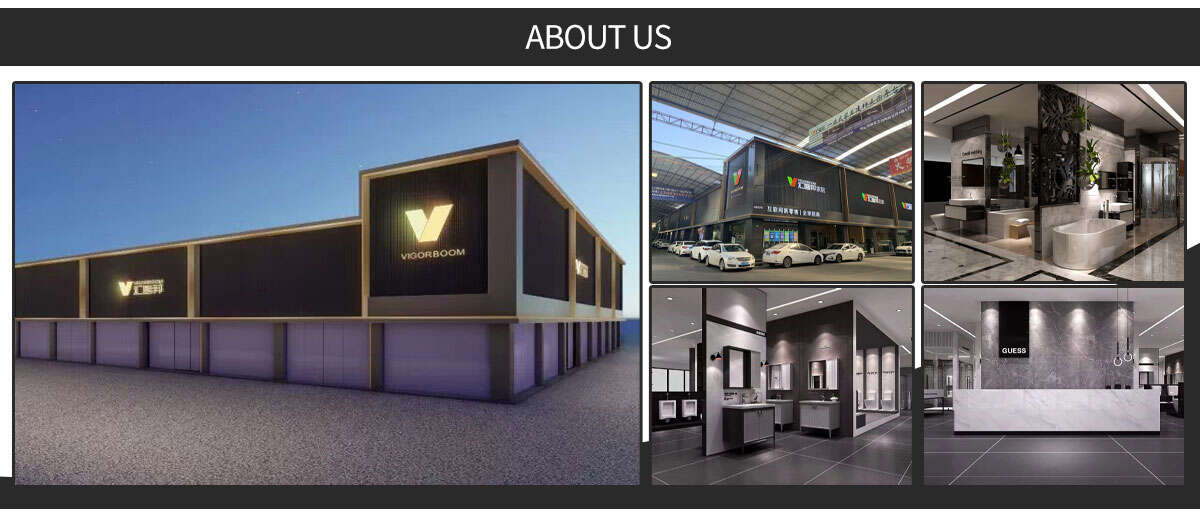 VIGORBOOM (China) Bathroom Co., Ltd. was established in Foshan, China. The company has two overall sanitary ware brands: GUESS sanitarywares and VIGORBOOM sanitarywares. VIGORBOOM bathroom products select high-end materials, strictly control product quality, and strive to build a high-end overall bathroom brand in China. VIGORBOOM bathroom products mainly include smart toilets, smart electric towel racks, bathroom cabinets, jacuzzi, steam rooms, shower rooms, showers, faucets, bathroom accessories etc.
GUESS Sanitary Ware mainly focuses on domestic and foreign hotel sanitary ware projects, we provide customers with custom service. GUESS sanitary ware brand was established in 2006, and the existing distributors are all over the world, especially including Saudi Arabia, Russia, Morocco, Oman, Maldives, Armenia, Iraq, India, Tajikistan, etc. GUESS Sanitary Ware has served thousands of domestic and foreign bathroom projects, including the five-star HAYAS hotel in Saudi Arabia, the five-star CENTRAL HAWASSA hotel in Ethiopia, the four-star PIPAL TREE hotel in India, APANA Real Estate in India, Agile Real Estate in China, and two in Dubai. MAQTA school, etc., products and quality are well received by customers.
VIGORBOOM sanitary ware brand was established in 2018, and is now recruiting brand agents from all over the world. VIGORBOOM Sanitary Ware is committed to creating a personalized overall bathroom space, aiming to create its own unique product for every end customer who chooses VIGORBOOM Sanitary Ware products. Bathroom space, so that every customer who chooses GUESS and VIGORBOOM brands can enjoy high quality of life and embrace a better life!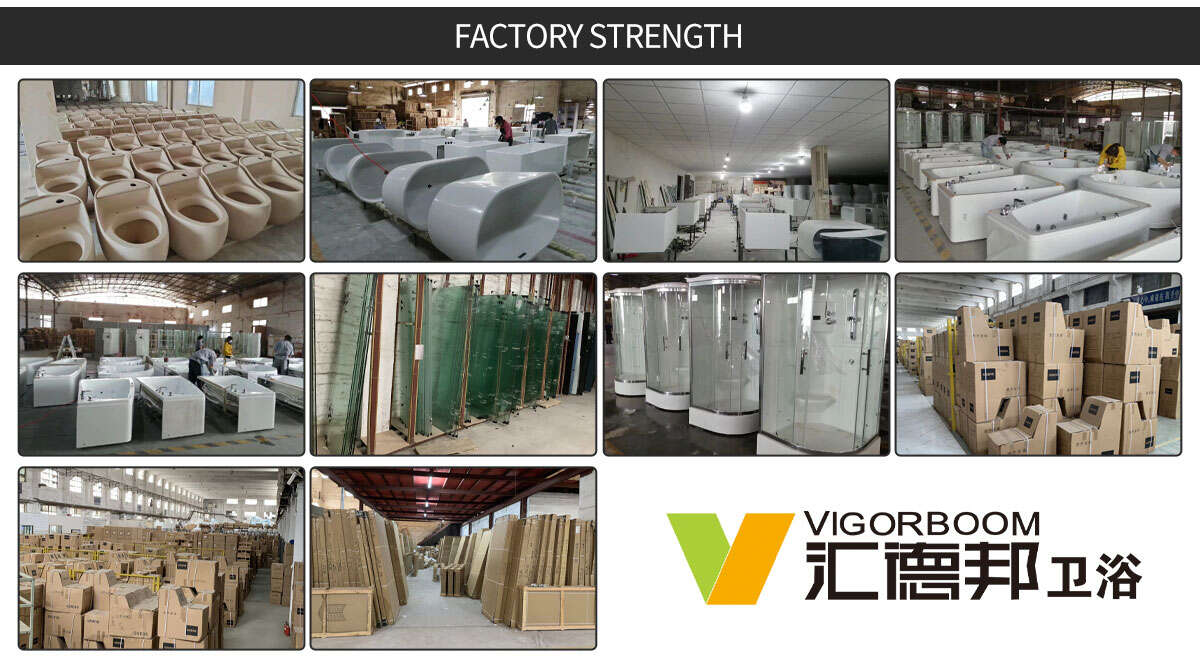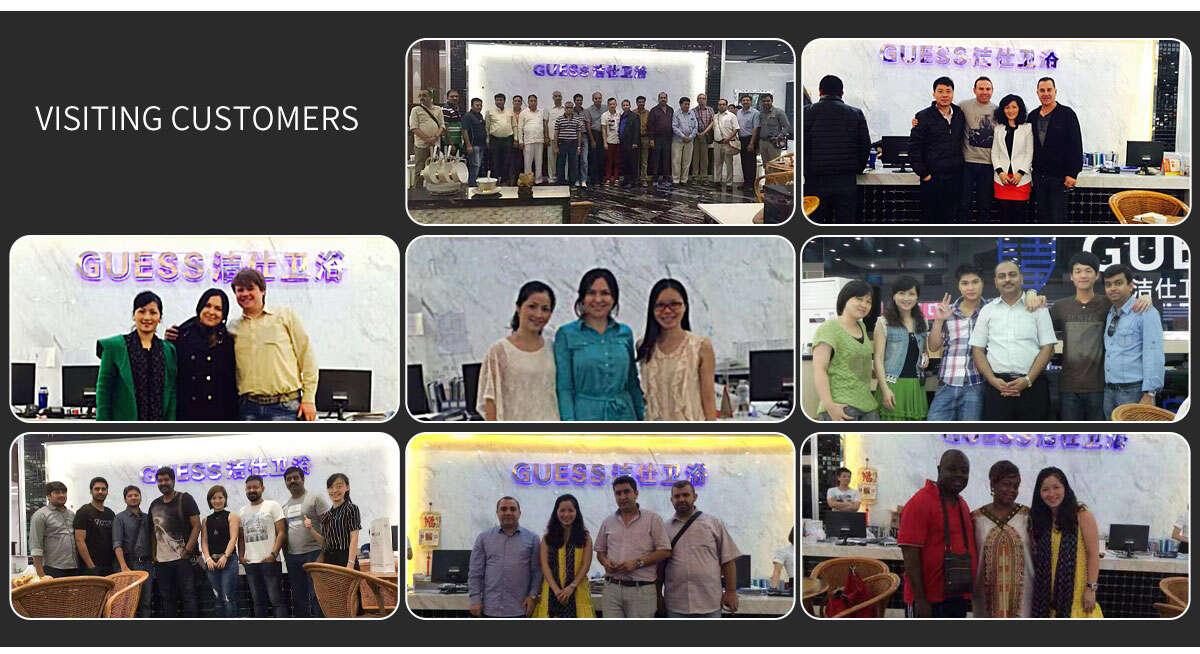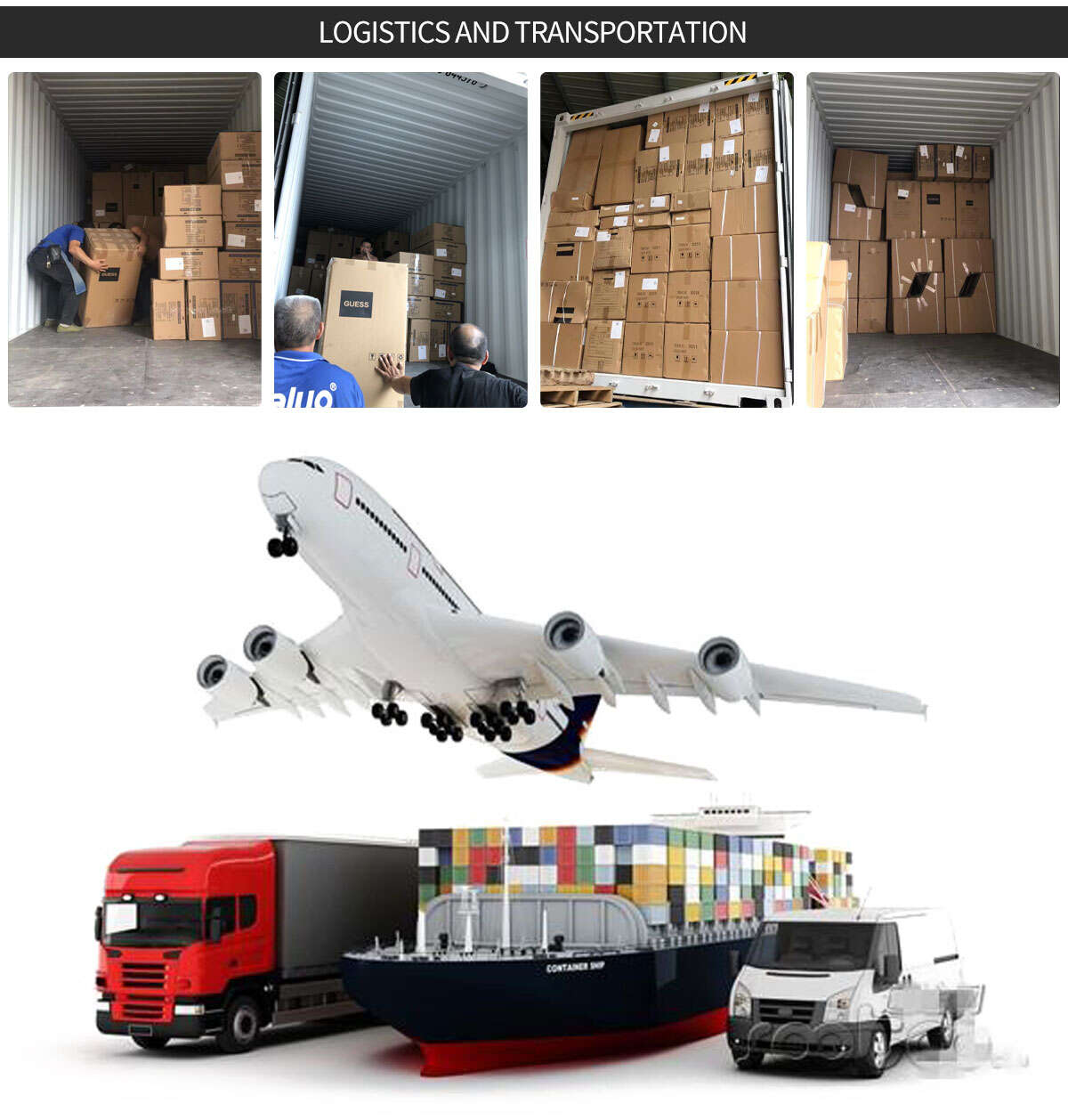 Package
All products are strong packaged by foam, carton, and wood support or wood case if necessary if the products are ceramic.
FAQ
Q1: How about the packing of exported goods ?
A1: Packages : 5-ply corruagated carton+foam+bubble bag.
Q2: How long for the production days ?
A2: Base on your quantity ,normally it need 15-25 days.
Q3: What is the MOQ quantity for each design?
A3: The minimum order quantity hopefully is more than 5 sets for one design or custom design. Our Production Capacity >90,000 sets/month.
Q4: Can the products be customized ?
A4: According to different styles, the material can be customized.
Q5: Whats the matrials of the cabinetg made of ?
A5: Main cabiner by Eco-friendly plywood,some design by ceramic hand wash basin ,and some with rock tile top.
Q6: What countries do you mainly export to ?
A6: Our products 60% exported, such as: India, Dubai, Saudi Arabia, Bahrain, Oman, Qatar, Kuwait, Libya, Yemen, Lebanon, Russia, More than 50 countries and regions including Azerbaijan, Ukraine, New Zealand, Venezuela, Tanzania, Nigeria, Kenya, Uganda, Australia, Malaysia and Nepal.